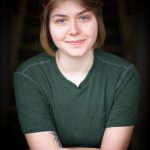 I aim to help patients feel less pain and stress; empowering them to understand, and strengthen their bodies.
In my approach, I use a various of techniques such as: Swedish relaxation, gentle neuro-muscular therapy, and light mobilizations.
A major part of my practice is creating small routines for patients; to better incorporate movement, strengthening and relaxation into their daily lives.
I'm very pleased to be a part of Port Moody Integrated Health.
It is reassuring to know that if I meet a patient with needs beyond my scope, there is an experienced, varied team here to help them meet their goals!
I immigrated to B.C. from Kazakhstan in 2001, growing up mostly in the Lower Mainland.
I enjoy hiking, horticulture, natural history and cooking!
I'm fluent in English, and slightly less so in Russian and French.
For more information, or to book an appointment with Valentina, please call 604-803-7989, visit her online booking page, email her at valentinarmt@integratedhealth.ca.