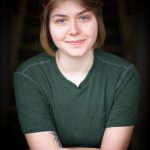 Finding a way to help you feel better is my goal for every treatment!
Massage is a fantastic mix of medical, holistic and mechanical therapy.
Having grown up in a medical / mechanical environment, manual therapy is a natural middle ground for me. I love to see a patient leave my office in less pain and stress, and with a plan on how to tackle their issue.
I use a variety of techniques; primarily Neuromuscular therapy (a combination of Swedish massage, Myofascial therapy, Trigger point or "knot" therapy and light mobilizations ), and functional spinal exercises.
I'm incredibly lucky to be a part of this clinic! All of our staff are accepting, open minded and always willing to help! So when I recognize a patient needing something more than I can provide, there's a strong, dependable and experienced team to help them on their path to wellness.
I immigrated to B.C. from Kazakhstan in 2001. My personal time is spent outdoors, with friends, reading or making art.
I'm fluent in English, Russian and French.
My availability is varying hours on Monday through Thursday.
Please use online booking, email or call if you'd like to make an appointment.
For more information, or to book an appointment with Valentina, please call 604-803-7989, visit her online booking page, email her at valentinarmt@integratedhealth.ca.